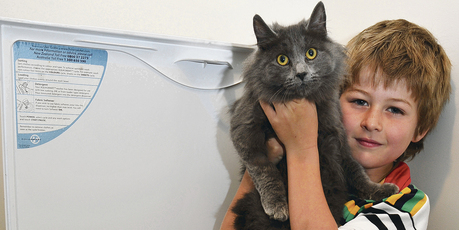 Not many people can tell you about that awful moment when they opened the washing machine lid and realised they had washed the cat. Adele Law from Gisborne can. "I lifted the lid and it was the most awful sight I have ever seen."
The family's 6-month-old kitten had been through a full 55-minute wash cycle that included a rinse and two spin cycles. She screamed to her son Tate, 7, "I just washed the cat!" Miraculously, the kitten survived... although Tate does think she has used all her nine lives.
It was early on a school morning. Ms Law threw in half a load of washing, added the laundry soap, then had a shower. A while later, she came back and added more clothes to the wash, closed the lid and pushed "start". While she was showering, Possum the kitten had crawled in and curled up in the top-loader. The family went out and came back after the load had finished. That was when Ms Law heard a "terrible" high-pitched whine.
"It was the most horrendous sound you have ever heard. I looked at the washing machine and said, 'You've got to be joking'." Inside was Possum, who Tate said looked like "a flattened starfish" against the side of the machine, with wet fur and looking like a "half-dead skinny rat". In shock, and faced with the "grossest" sight she had ever seen, Ms Law had temporarily closed the lid on what she thought must have been a trauma the cat could not survive. Then she grabbed two towels and lifted a floppy Possum out of the machine and rushed the shaking kitten to the vet.
The vet's receptionist was serving another customer and Ms Law had to interrupt and say, "Look I'm sorry but I have a cat that has just been through the full wash cycle". No one could believe the fluffy grey kitten had survived. If it had not been for the care and attention from Eastland Veterinary Services, she might not have made it, said Ms Law.
Possum was kept on a drip overnight and on an electric blanket to get her warm again. They think what saved Possum was the cold wash and that the washing machine was a model with no agitator in the middle. Veterinarian Will Halliday said it was certainly the first time they had seen anything like that. "She was quite dizzy, as you can imagine, after going through a spin cycle and incredibly lucky it was not a hot wash. She was a very soggy moggy."
Possum was hypothermic and so cold that her temperature did not even register on the thermometer. Back home in front of the family's fire yesterday, Possum did not have a care in the world. The only noticeable change is that she has been "heaps friendlier" since the incident but will not go near the washing machine.
- The Gisborne Herald